Irelands karaoke supporters make big news in finland
Translation from Finish newspapers
THE IRISH PEOPLE TOOK THE CHEERS THROUGH THE ROOF AT THE WORLD KARAOKE CHAMPIONSHIPS IN LATHI HALL LAST NIGHT AND TOOK THE HOME ADVANTAGE FROM THE FINISH! THE IRISH SUPPORTERS STOOD OUT FROM THE REST WITH THEIR DRESS, YELLING AND EASY GOING STYLE. YOU JUST COULDNT MISS THE HIGH FEELING AT THE TWO LONG TABLES WHERE THE IRISH SUPPORTERS WERE SITTING WHILE OTHERS WERE STILL LOOKING FOR A PLACE TO SIT DOWN!
THE IRISH WERE WEARING t-SHIRTS WITH TEXT WRITTEN ON THEM "FINCHES TO FINLAND" FINCHES PUB, OR AT LEAST HALF OF IT, HAD MOVED TO LATHI.
ON THE FRONT OF THE SHIRT THEY SUPPORTED JENNIFER WARD, THE IRISH CONTESTANT. AT THE OTHER TABLE SITS ADRIAN KENNY WITH HIS SUPPORTERS FROM CORK. LIZ AND LINDA TWO SUPPORTERS SAID THAT WE SUPPORT BOTH JENNIFER AND ADRIAN. LINDAS DAUGHTER LACEY HAD ENTERED THE TRIALS EARLY IN THE YEAR AND SHE HOPES THAT SHE MIGHT MAKE IT THROUGH NEXT YEAR. ONE OF THE SUPPORTERS
HAD BEEN AN ENTRANT IN 2004.
THE IRISH TEAM 2009 PUT THERE BEST FOOT FORWARD IN LATHI FINLAND THIS YEAR WITH OVER 40 SUPPORTERS
FROM CORK KILDARE CARLOW DUBLIN . WITH THE GREEN WHITE AND GOLD EVERY WHERE IN LATHI HALL
ALL SAID THE TRIP WAS WELL WORTH IT SUNSHINE SINGING AND CRACK
JENNY WARD FROM Clondalkin WAS THE SUNSHINE ON THE IRISH TEAM FOREVER SMILING AND CHATTING MADE IT TO THE TOP FIVE
SHE DID IRELAND PROUD
AND THE ICING ON THE CAKE ' CORK MAN Adrian Kenny TOOK HOME THE GOLD
CAN'T WAIT FOR 2010
Congrats to Adrian and Jenny will done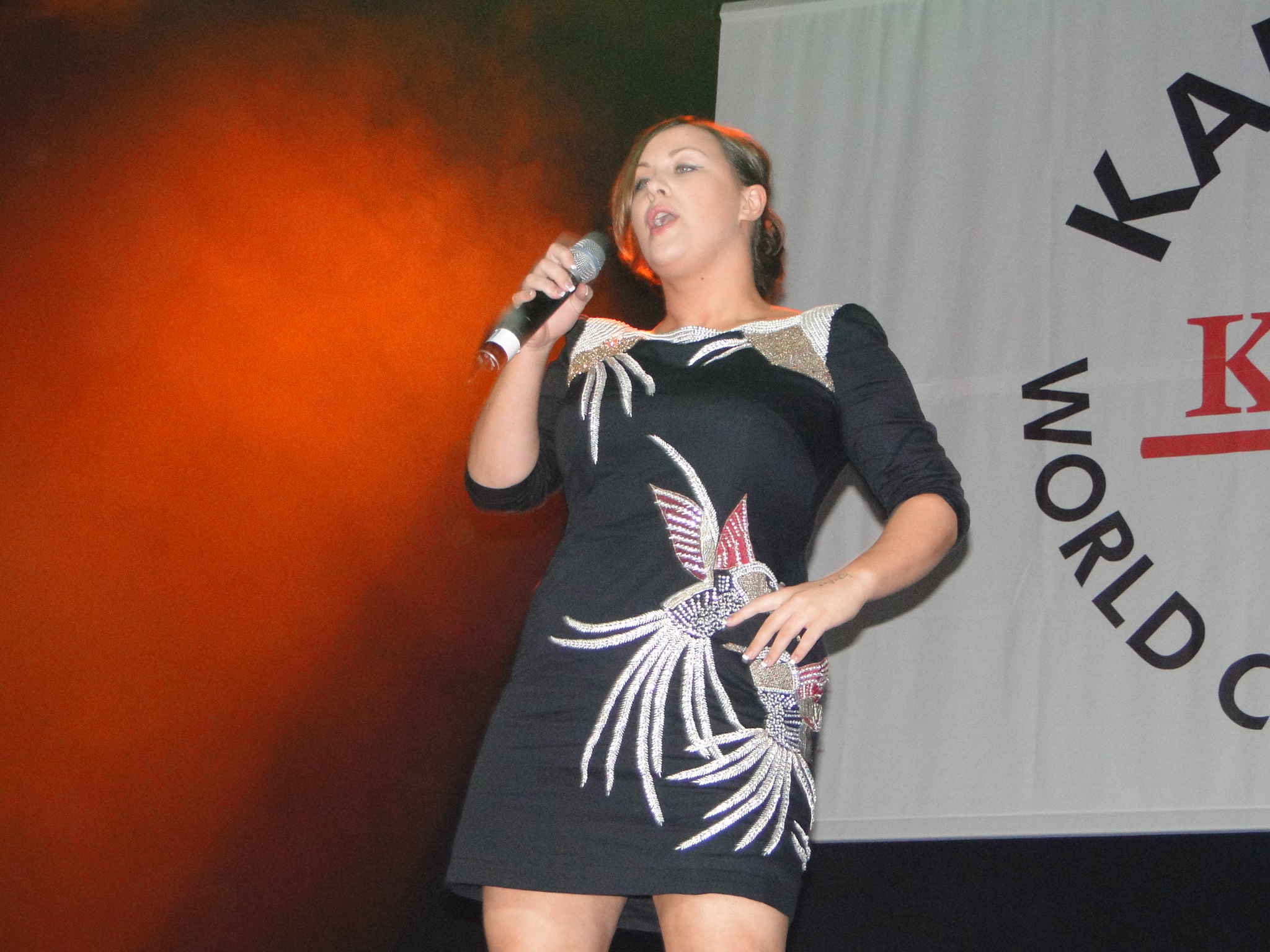 below pictures from world karaoke championship lathi finland 2009
Heats for 2010 world karaoke championship will start in ireland in march 2010
all information will be posted on www.bigjohnskaraoke.ie soon